When have your problems ever been big enough?
12:28 AM
I don't usually share my feelings with people. It suffocates you a great deal, yet I still keep away.
Why?
Because, in most cases, it's every man for himself. Most of them will call you up, when there's a slightly diverse status update or a tweet or some form of feeling unleashed, just to know if you botched things up.
When you approach someone you want to talk to, usually, they devalue your problems(and by problems I do not mean those silly "First World" problems you find people complaining and crying about). That is what I have come to understand of people. "Is that so? This is nothing compared to what I went through.", "It's such a small thing. Why do you even have to think about it?"
Hello? Why do I have to think about it?
Because I am clearly hurt.
Because I am not leading your life and I am not born into your circumstances. We are all very different entities and we all have to undergo pain, but your hitches are different from mine and I think you have to accept it.
Unfortunately I will not have the courage to say it out aloud. Because I am in a state of confusion and I am just going to take your word for it. That MY problems aren't significant enough and there is something wrong with me for thinking about it.
What happens ultimately is that, you shell in. You don't talk to anyone about your problems, thinking yours is not substantial enough to tell another. You become moody and you become silent. You eventually don't talk. And you know what the real problem here is? You will never talk about what you feel like to anyone, later onwards, becoming numb to it.
Have you ever thought about how you treat children? When a child, someone entering their teens, tell you about a problem he/she is facing, how have you responded to it as a sibling? You brush them away while typing into your smartphone saying, "You talk like no one else has any problems. Get away now, I have more important work."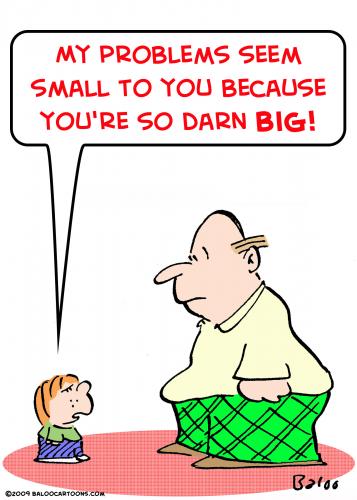 It hurts them. Just because you are not their age, doesn't mean they aren't suffering. Infact chances are that you went through something similar in your preteens. You know it well, yet you just want to deliberately ignore it. But why? Because you are not in their circumstance or situation right now, and its just trivial to you.
Dear reader, you cannot weigh your problems. Whether its small or big, I don't know how to classify them. For me, as far as I am in a mental trauma, I am having a problem.
And that is exactly I want to tell you as well. Stop contemplating about how big or small others' problems are. You don't have a right to do that. Even if you do, please reserve your comments to yourself. Nobody wishes to hear what they are undergoing is nothing and they shouldn't feel anything.
In fact, they do and they are bothered by it that they decided to finally approach you. But if you are being the hypocrite here making their problems redundant, I don't know what to call you.
Be a shoulder to cry on. If someone chose you to confide in, it means they value you and your words. The moment you choose your words wrong, they may still believe in you, but it will never help them.
There is no bigger comfort than listening. Nobody has the time to listen. They are all hasty enough to jump into conclusions or finishing up your sentences. Don't be that person. Listen and make them aware that you are there for them.
And if you are someone who has been on the receiving end of all this, I want you to know that, your problems are important too. If you are experiencing pain emotionally or mentally, it does definitely have a value. Treat them as real problems and face them. Don't brush them aside thinking they aren't big enough, to finally realize it has grown into something huge you can't handle. Your problems are significant and that's why it is called a problem. Don't let anyone tell you otherwise.